SUTHERLAND TRACK & FIELD SCHEDULE OF EVENTS All field events will begin at 12:00 CST. Entrants will be given three attempts or throws. There will be no prelims. ORDER OF EVENTS BOYS' SHOT PUT FOLLOWED BY GIRLS' SHOT PUT GIRLS' DISCUS FOLLOWED BY BOYS' DISCUS GIRLS' LONG JUMP (WEST RUNWAY) FOLLOWED BY GIRLS' TRIPLE JUMP BOYS' LONG JUMP (EAST RUNWAY) FOLLOWED BY BOYS' TRIPLE JUMP BOYS' HIGH JUMP FOLLOWED BY GIRLS' HIGH JUMP GIRLS' POLE VAULT FOLLOWED BY BOYS' POLE VAULT RUNNING EVENTS WILL BEGIN AT 2:00. THERE WILL BE NO PRELIMS!!! 3200 METER RELAY 100 METER HURDLES 110 METER HURDLES 100 METER DASH 1600 METER RUN 400 METER RELAY 30 MINUTE BREAK 400 METER DASH 300 METER HURDLES 800 METER RUN 200 METER DASH 3200 METER RUN 1600 METER RELAY
Sutherland High School Track Meet 4/14/22 Due to temperatures in the morning, Sutherland will change the format of their meet to Finals Only & will start field events at 11:00 MST. Jumps and throws will get 3 attempts. I will attach the Schedule of Events when we receive it.
Perkins County has moved the Junior High Track meet start time back to 10:00 AM MST due to the cool temperatures in the morning. The Students will load at 8:00 AM and depart at 8:15 AM. The updated schedule is attached.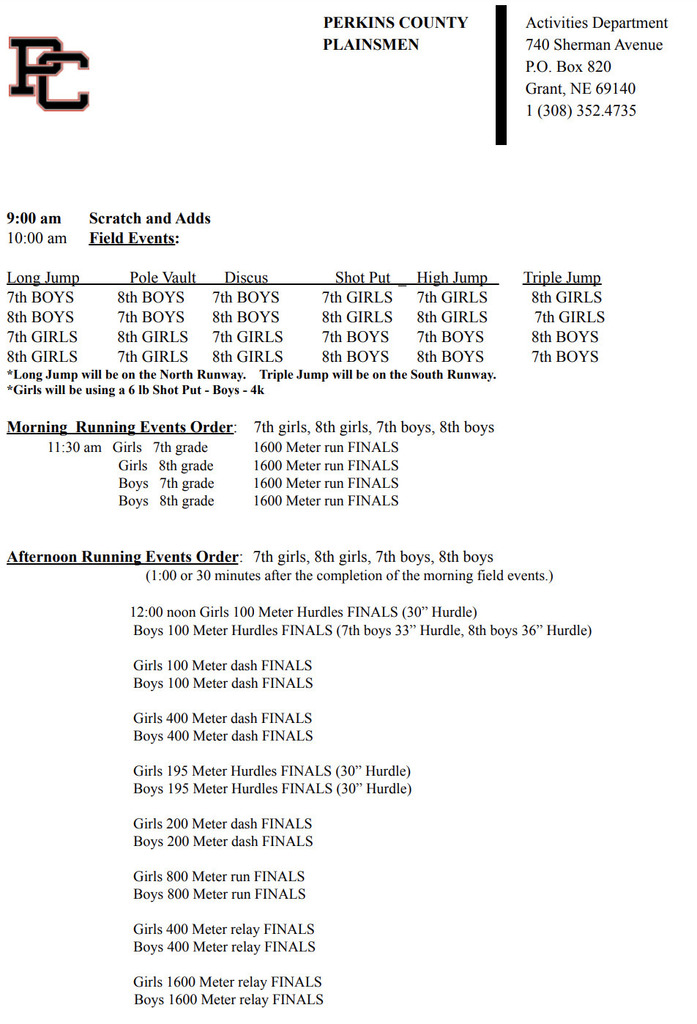 K-5 Spring Concert. Monday, May 16 at 6:30 in the Longhorn. Gym. Come hear a variety of songs about animals. Hope to see you there.

Congratulations to the CCS golf team on a successful home meet! We placed fourth as a team and had two individual medal winners in the top 15!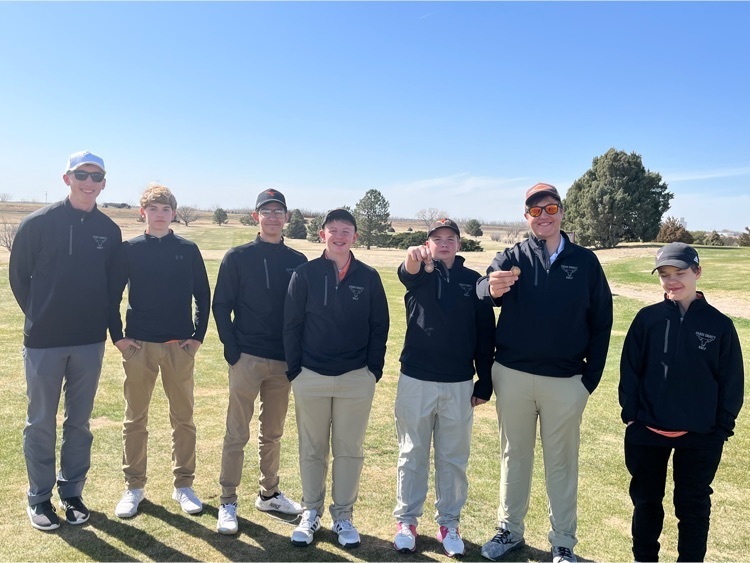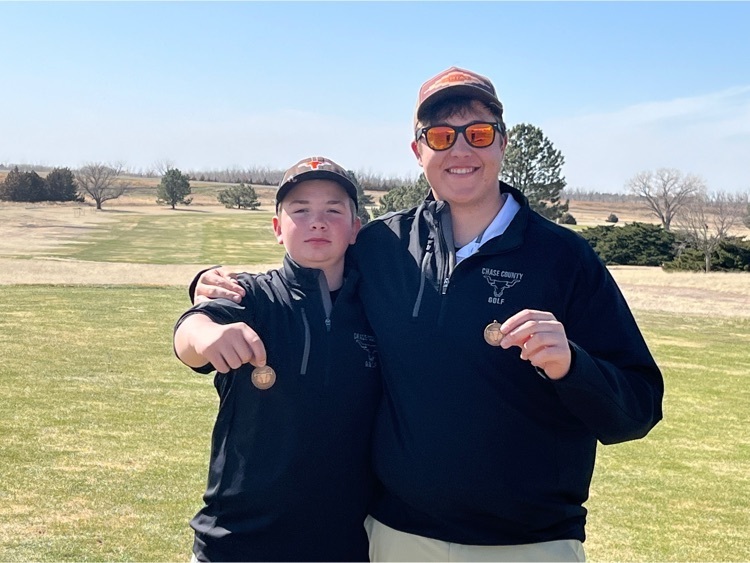 Reminder: this is our last week of state testing. Beginning tomorrow all students in Grades 4-6 will take their Math state test during their classes. Also, all 9th graders will take the PreACT in the Auxiliary Gym tomorrow during periods 1-3. Please get a good night's sleep and eat a healthy breakfast so you are ready to do your best!

Our regular monthly school board meeting will be held tonight, Monday April 11th at 6pm in the board room. This is a slight change from our normal Tuesday night meetings. We will go back to the Tuesday meeting next month.

Save the date! Come enjoy a evening of fun hosted by the Multi Cultural Club!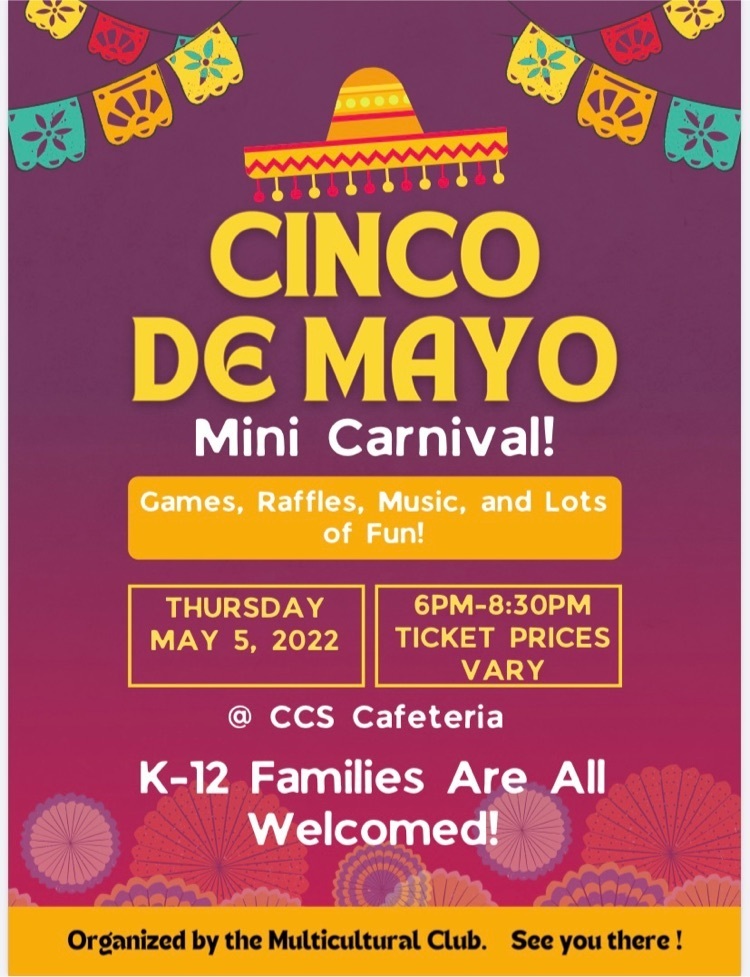 The 15 seniors participated in the annual MCC Paint-In today at McCook. The theme was "Conflict and Adversity." The paintings will be on display at CCS.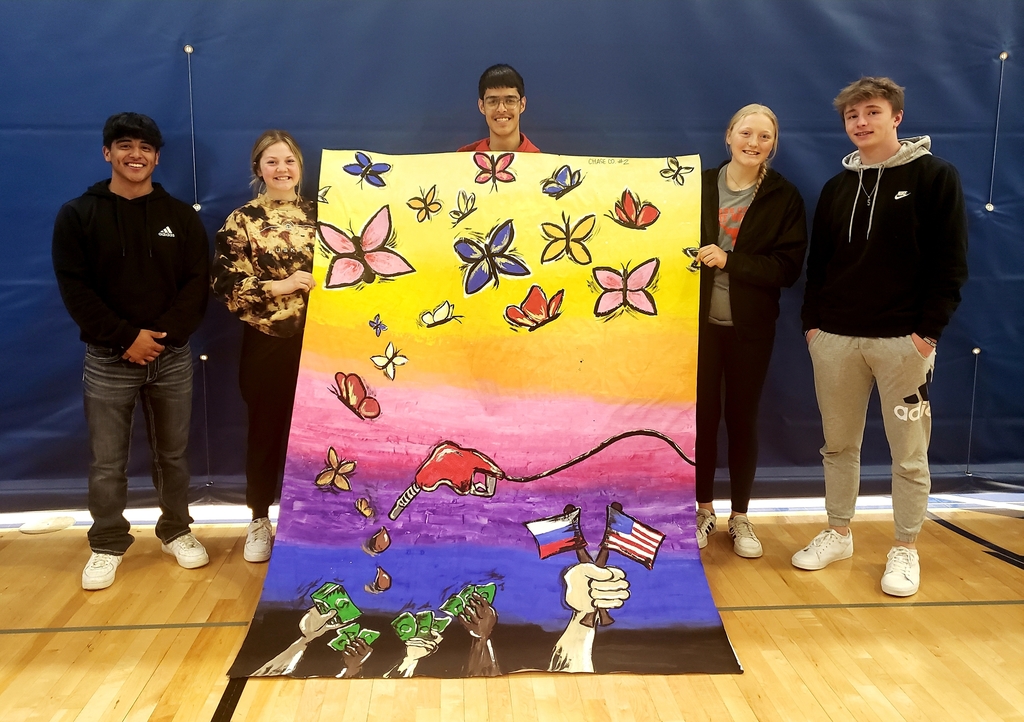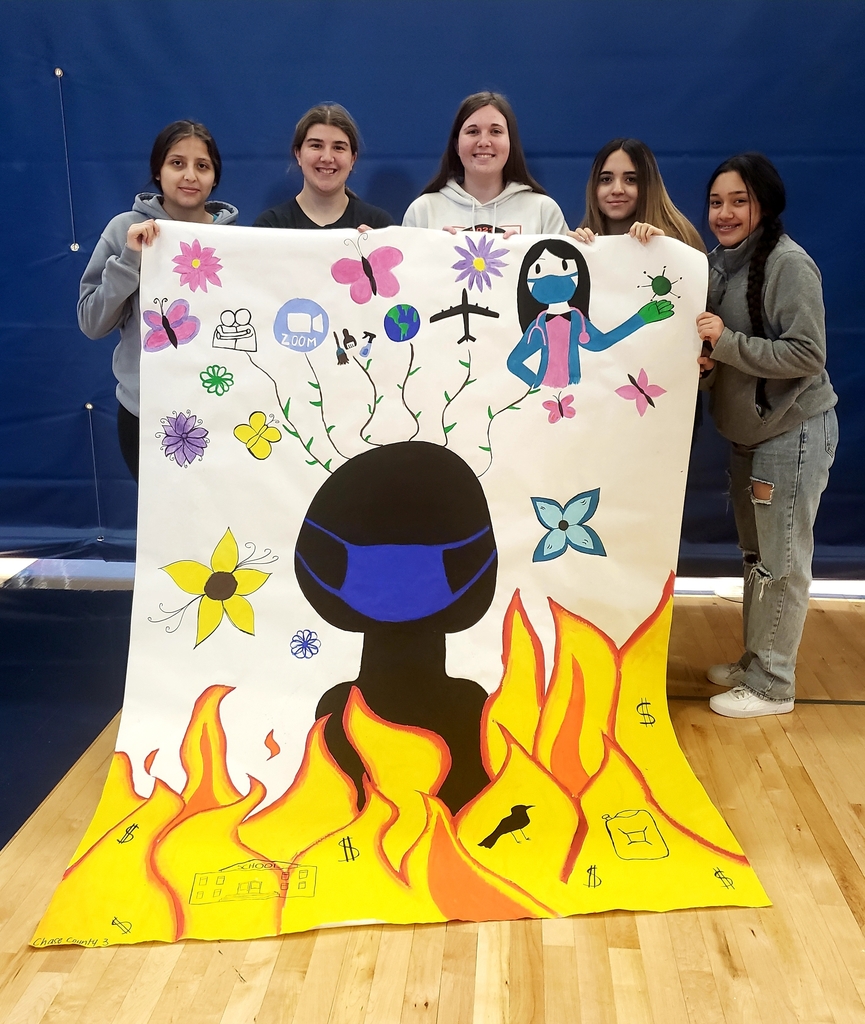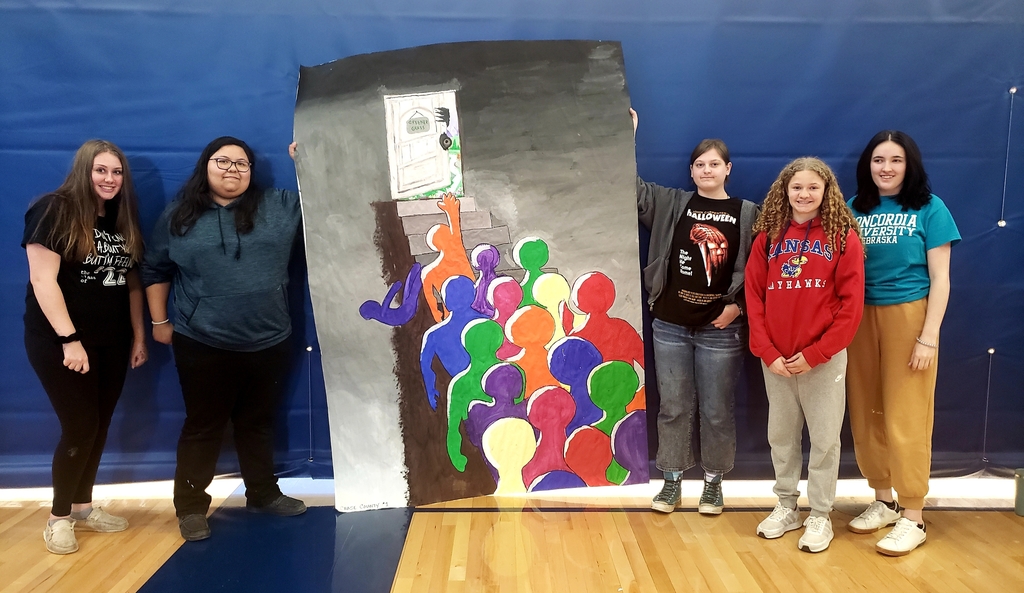 Attention Sophomore Students and Parents! The class of 2024 is hosting a concessions table for District Music on April 22nd. We are in need of volunteers to bring drinks and a few other items. Please use this link to sign up if you are willing to bring something. Thank you!
https://www.signupgenius.com/go/10c0f4ca9a62da3fbc43-sophomore
And now the photo!😀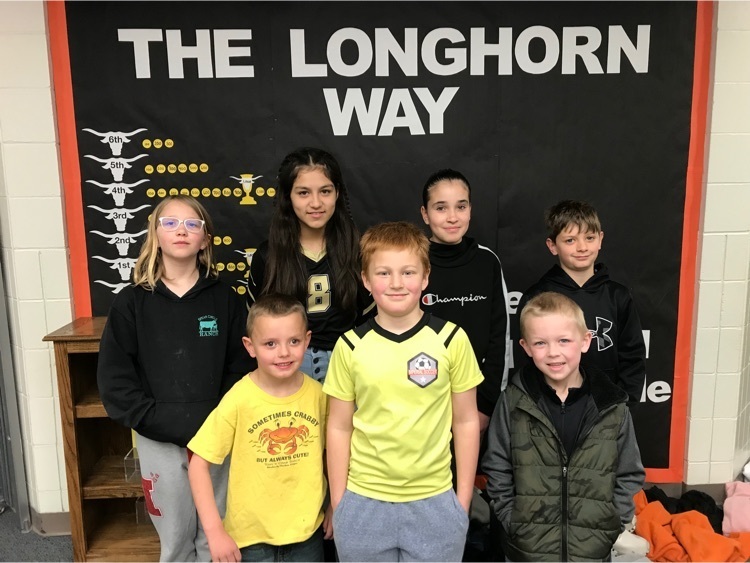 PBIS winners this week at CCS! Positive rewards for safe, respectful and responsible behavior!!

Cheer/Mascot Tryouts Fast Approaching!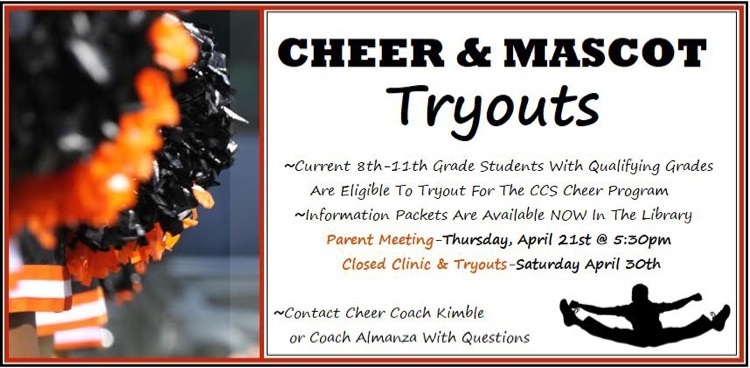 The Dundy County-Stratton Junior High Track meet for tomorrow (4/7) has been postponed.

Congratulations to Chase County on a successful first meet! Three members placed individually and we placed third as a team.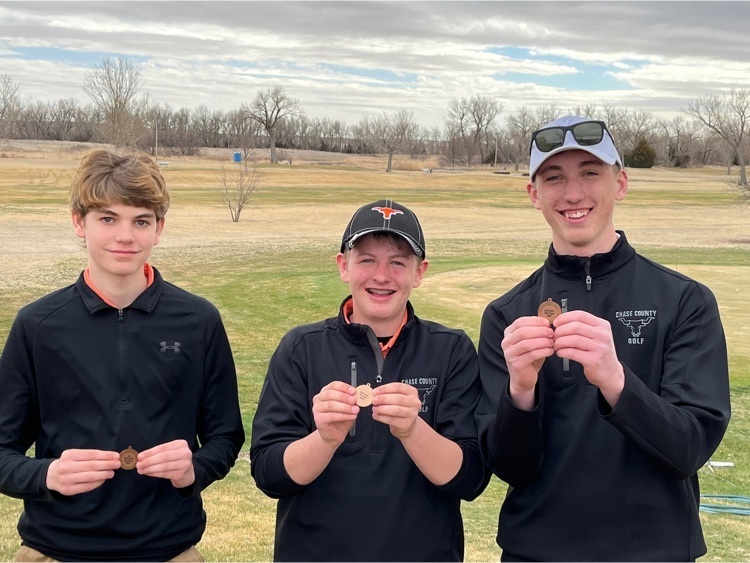 On Tuesday, April 12th all 9th graders will be taking the PreACT in the Auxiliary Gym during periods 1-3. This will help them prepare to take the ACT in future years. Please get a good night's sleep and eat a good breakfast. Bring pencils, a calculator, and dress in comfortable layers so that you can do your best!

Senior Design students painting with melted crayon.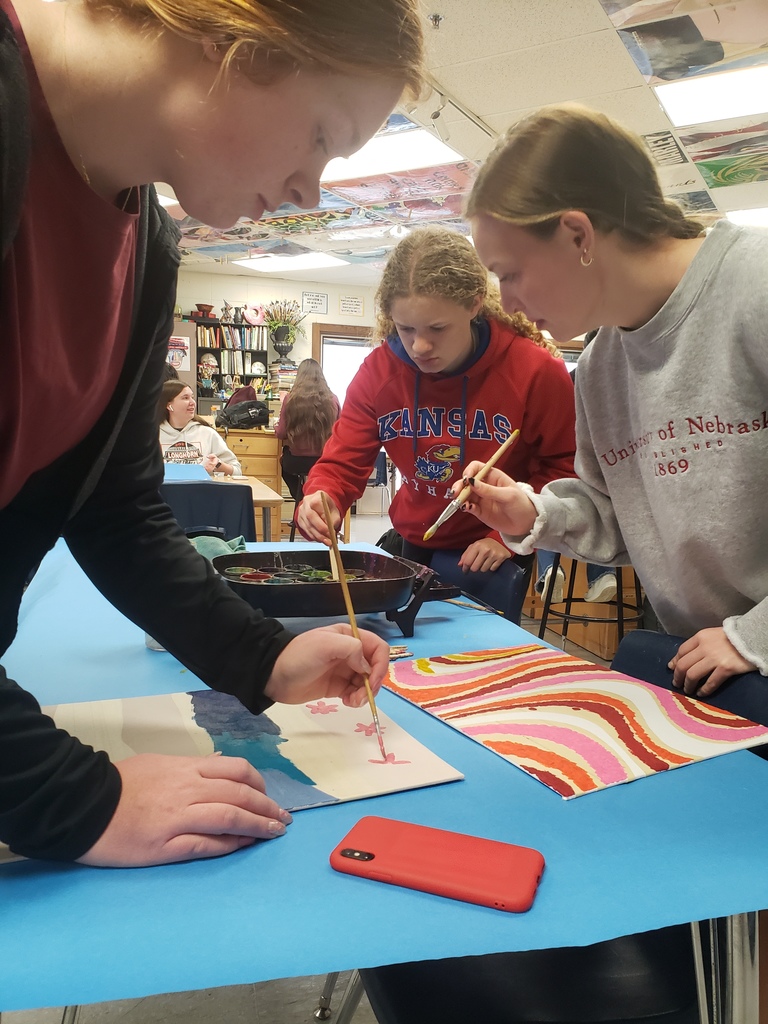 Great night inducting new and celebrating senior National Honor Society members.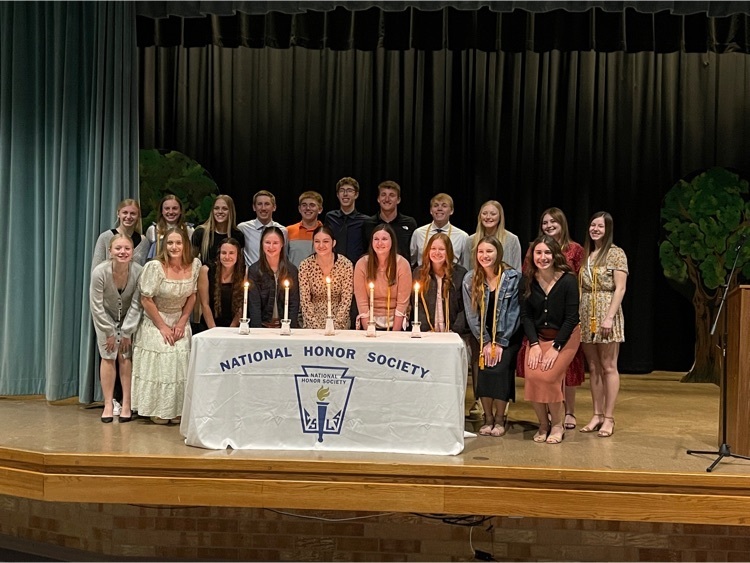 Reminder: tomorrow Tuesday, April 5th all Grade 4 ELA, Grade 3 Math, & Grade 8 Math state NSCAS tests will be given. Wednesday, April 6th Grade 7 will take Math during periods 1-2. Please get a good night's sleep and eat a healthy breakfast so you are ready to do your best!